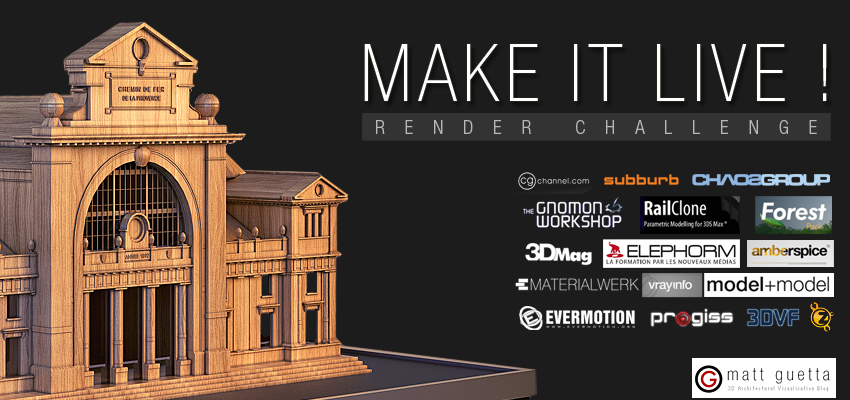 Pour ce premier concours, je vous invite à bosser sur « La Gare des chemins de fer de Provence de la Ville de Nice« . Le modèle vous est fournit, a vous de produire une image. Vous êtes libre d'en faire ce que vous voulez, editer/deplacer/supprimer des parties du modèle, un seul mot d'ordre… du gros rendu !
A propos de « Make it Live! »
L'idée de ce concours est simple, il y a quelques moi j'ai bosser sur un concours d'architecture ayant pour sujet l'aménagement de l'ancienne gare de Nice. Malheureusement je me suis juste taper la reconstitution de la gare (…) et pas les images du rendu, du coup a vous de donner vie au modèle!
Mission
Pour participer, vous devez vous enregistrer sur le forum.
Intégrer la gare dans un environnement 3d.
Ouvrir un post sur le forum, section WIP de  » Make it live! » , c'est un wip challenge, il faudra donc donner vie à tout ça!
Poster votre image finale avant le 6 Décembre 2010.
Regles
Les images finales devront être poster sur le forum, section « Submissions »,avant le 6 Déc. 2010 23:59.
Résolution (minimum) : 3507x2480px or 2480x3507px.
La compétition commence le 5 Novembre 2010 jusqu'au 6 Décembre 2010.
2 images maximum par artiste.
Vous ne pouvez pas poster vos images ailleurs que sur le forum jusqu'au résultats.
Les sociétés ou équipe ne sont pas admises.
Vous pouvez utiliser tous les softs que vous voulez.
Les gagnant devront écrire un « making-of ».
Les employés des sponsors ne peuvent pas participer.
Il vous faudra mettre à jour votre thread durant toute la durée du concours.
Juges
Ce sera vous ! Vous serez tous inviter à voter à la fin du concours.
Sponsors
Avant tout, je tiens à remercier tous les sponsors.
Prix
Premiere Place
Chaosgroup V-Ray 2.0 for 3ds Max
Itoo Forest Pro
Itoo  RailClone Pro
Materialwerk Brix 1.0
Subburb – Solidrocks 0.97
Zwischendrin – Snowflow
Elephorm 3dsMax Training DVD Pack by JYA
The Gnomon Workshop – « Annual Subscription Training »
1 Evermotion DVD (the one you want!)
Premium Portfolio Account on Evermotion website
Model + Model – Volume 1
Amberspice – At the table
T-shirt « Vray Fanboy » from Vray.info
1 year subscription to 3dMag Magazine
Deuxieme Place
Bundle Evermotion – Texture4ever
Premium Portfolio Account on Evermotion website
Subburb – Solidrocks 0.97
1 3dMag
Troisieme Place
Evermotion – Doomsday
Premium Portfolio Account on Evermotion website
Subburb – Solidrocks 0.97
1 3dMag
Telechargement
Bonne chance à tous !