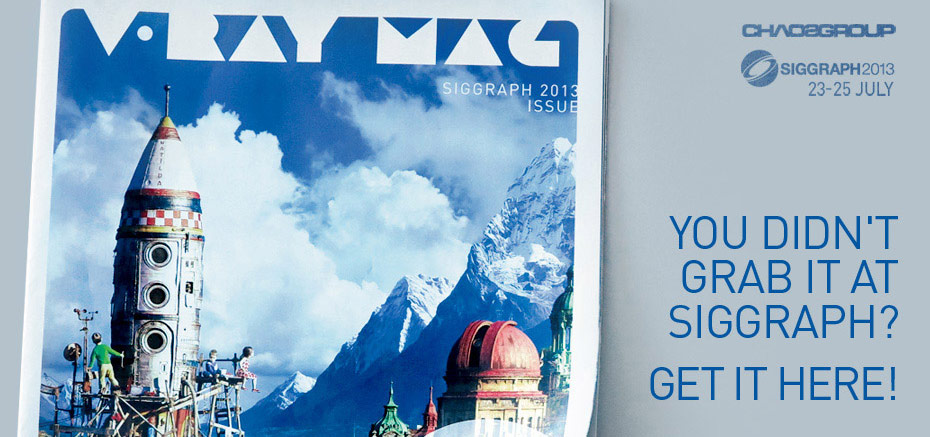 Vu sur le site de Chaos Group une interview de Vladimir Koylazov, aka Vlado, qui nous lache quelques infos sur VRay 3 !
Le VRay Mag
Je vous invite à telecharger le VRay Mag publié à l'occasion du SIGGRAPH. Au programme :
VRay 3
Bon, re mais c'est encore moins un scoop du coup, VRay 3 est tout proche et les infos commencent à arriver avec cette fois de nouvelles features très intéressantes !! Vous le savez tous mais en ce moment le SIGGRAPH bat son plein et forcément Chaos Group est attendu au tournant 😉 Petit résumé des nouveautés pour les flemmards !
Nouvelle UI avec un mode simplifié et un mode advanced
Max Ray Intensity
VRay Vismats Library
Intégration du Open Shading Language afin de pouvoir écrire de nouveaux shaders( !!!!! )
Intégration de l'OpenEXR 2.0
Rendu Hair 15 fois plus rapide et support d'Alembic
Nouveau Skin Shader
Diverses optimisations hardwares et software etc…
Voici quelques extraits de l'interview :
With V-Ray 3.0 we will be offering a host of new features, optimizations, and improvements that will simplify artist's workflow while offering advanced capabilities and great speed improvements. One of the key  improvements will be the simplified workflow. We will be launching a brand new, simplified user interface where the controls artists need are up front and easy to get to. Speed and quality could be adjusted from a single location. At the same time our expert users will still have access to all the advanced controls V-Ray offers.
We are also introducing progressive production rendering with accurate path tracing calculations compatible with all V-Ray features. In addition to all that, our users will be able to use universal assets across different platforms. The V-Ray Vismats library, a cross-application V-Ray shader is compatible between any V-Ray enabled application. With V-Ray 3.0 we'll also be launching support for the Open Shading Language developed by Sony and this will allow artists to write their own custom shaders.
Now with V-Ray 3.0, we are introducing deep image rendering and support for OpenEXR 2.0.
Hair rendering speed has been improved and is now up to 15 times faster. V-Ray 3.0 will also support rendering hair for Alembic and .vrmesh files. We are also planning to introduce a new ray traced skin shader with lots of performance optimizations.
The hardware is powerful enough so that methods like path tracing, which were unthinkable 10 years ago, can now be used successfully in many cases.
Cloud rendering has been a popular discussion topic for the last few years, but we are just starting to see some practical applications. My guess is that it will play a more important role in the future, although it won't replace traditional render farms. GPU-accelerated rendering has come firmly into our lives and has claimed its ground; its usage will continue to increase, although again it probably won't completely displace traditional CPU renderers.
Vous pouvez télécharger le VRayMag ici.