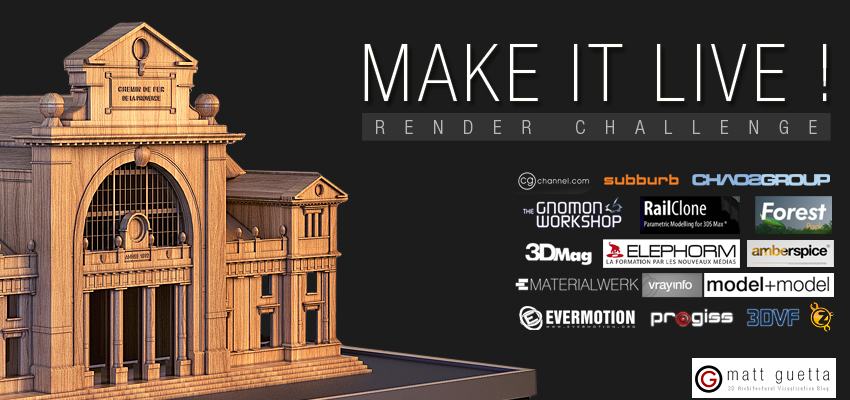 For this first contest, I invite you to render "La Gare des chemins de fer de Provence de la Ville de Nice". The model will be provided to you and you have to create and submit at least one image. You are free to do what you want, you can edit/move/delete some parts of the train station… Just have fun!
About "Make it Live!"
The challenge concept is the result of my work. A few monthsago, I've worked on the rendering of a reel architecture contest, but I haven't done the final images, just the model. I've never had time do do something with it, so I hope that you will make it live!
Mission
To participate you will have to register on the forum.
You have to integrate the station into an environnement.
Open your own thread in the" Make it live!" section, it will be a work in progress challenge, from sketches to the final render.
Submit your final image on the 6 December 2010.
Rules
The final pictures will be published on the forum section "Submissions", before Dec. 6 23:59 (Forum time).
Image résolution (minimum) : 3507x2480px or 2480x3507px.
The challenge begins on 5 November 2010 and will run until 6 December 2010.
Two images submission maximum by artist.
You must not publish your work during the challenge outside the dedicated forum.
Companies and team are not allowed.
You can use any softwares you want.
Winners will be required to write a "making-of".
Employees of sponsors can't participate.
Your wip thread images must have been submitted and updated during the challenge.
Judgement
It will be yours, you will be invited to vote and the results will be announced in the following week.
Sponsors
I would like to thank all the sponsors who joined in and donated prizes.
Rewards
1st Place
Chaosgroup V-Ray 2.0 for 3ds Max
Itoo Software Forest Pack Pro
Itoo RailClone Pro
Materialwerk Brix 1.0
Subburb – Solidrocks 0.97
Zwischendrin – Snowflow
Elephorm 3dsMax Training DVD Pack by JYA
The Gnomon Workshop – "Annual Subscription Training"
1 Evermotion DVD (the one you want!)
Premium Portfolio Account on Evermotion website
Model + Model – Volume 1
Amberspice – At the table
T-shirt "Vray Fanboy" from Vray.info
1 year subscription to 3dMag Magazine
2nd Place
Bundle Evermotion – Texture4ever
Premium Portfolio Account on Evermotion website
Subburb – Solidrocks 0.97
1 3dMag

3rd Place
Evermotion – Doomsday
Premium Portfolio Account on Evermotion website
Subburb – Solidrocks 0.97
1 3dMag
Download
Good luck !